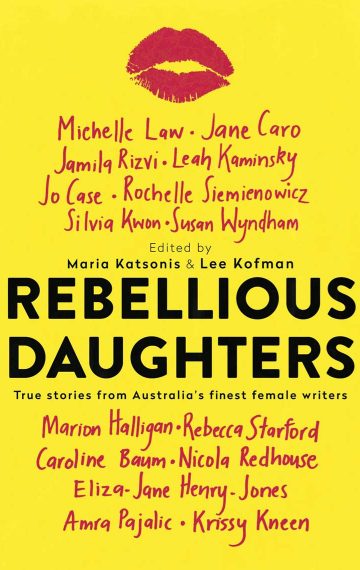 32.99
Publisher:

Ventura

Editor:

Lee Kofman and Maria Katsonis

Available in:

Paperback

ISBN:

9781925183528

Published:

August 1, 2016
Purchase
An anthology of Australian female memoir Lee co-edited with Maria Katsonis.
Good daughters hold their tongues, obey their elders and let their families determine their destiny. Rebellious Daughters are just the opposite.
In Rebellious Daughters, some of Australia's most talented female writers share intimate and touching stories of rebellion and independence as they defy the expectations of parents and society to find their place in the world.
Powerful, funny and poignant, these stories explore everything from getting caught in seedy nightclubs to lifelong family conflicts and marrying too young. Beautifully written, profoundly honest and always relatable, every story is a unique retelling that celebrates the rebellious daughter within us all.
Not every woman is a mother, grandmother, aunty or sister – but all women are daughters.
This anthology of memoir by Australian women writers was listed in The books we loved: Australian writers nominate their favourite reads of 2016 in The Age and was listed in 17 Nonfiction Books out in August 2016 that you need to read this summer in Bustle.com'
'Rebellious Daughters is brimming with wise, funny, intimate stories.' Financial Review
'Rebellious Daughters is just as notable for its portrait of families in joy and crisis, struggling to adhere to the expectations of the ''good'' family, as it is for the rebellion of daughters.' The Australian