A work of creative nonfiction.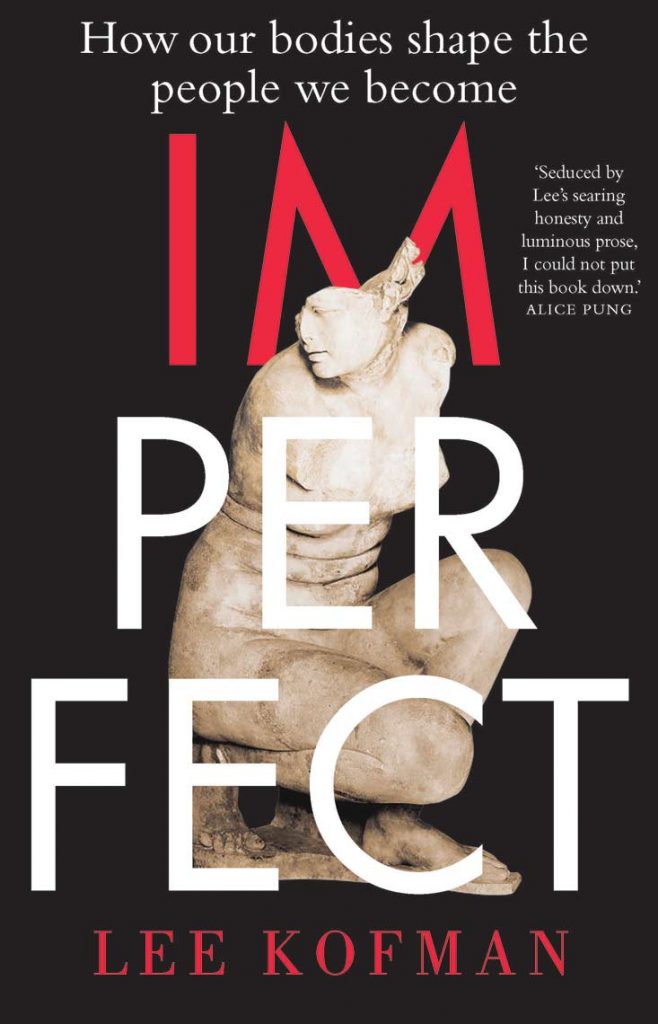 By the time she was eleven and living in the Soviet Union, Lee Kofman had undergone several major operations on both a defective heart and injuries sustained in a bus accident. Her body harbours a constellation of disfiguring scars that have shaped her sense of self and her view of the world. But it wasn't until she moved to Israel and later to Australia that she came to think these markings weren't badges of honour to flaunt but were, in fact, imperfections that needed to be hidden away.
In a captivating mix of memoir and cultural critique, Kofman casts a questioning eye on the myths surrounding our conception of physical perfection and what it's like to live in a body that deviates from the norm. She reveals the subtle ways we are all influenced by the bodies we inhabit, whether our differences are pronounced or noticeable only to ourselves. She talks to people of all shapes, sizes and configurations and takes a hard look at the way media and culture tell us how bodies should and shouldn't be.
Illuminating, confronting and deeply personal, Imperfect challenges us all to consider how we exist in the world and how our bodies shape the people we become.
Bibliography – To download the complete bibliography for Imperfect (124KB PDF file), please click here.
Imperfect has been shortlisted for Nib Literary Award 2019.
It has been included in The Age The Books We Loved in 2019.
It was also mentioned in The Age What to Read in 2019 and
What to Read in 2018; Readings blog Australian Books to be Excited About in the First Half of 2018; and on Meanjin blog
Reviews:

Kofman is captivating when recounting her formative experiences – recollections of people- and fly-strewn hospital rooms in Odessa and the heaving throb of people in Tel Aviv are visceral and evocative – but Kofman excels the most when she's reconstituting the gaze towards 'imperfect' women and recontextualising the link between the body and selfhood. ****

Books+Publishing
[a] finely written account of living with physical scars.

Graeme Simsion, The Books We Loved 2019, The Age/Sydney Morning Herald.
Kofman wants to learn "how our bodies can shape our lives", but the wisdom she provides is more wide-ranging… Imperfect may be largely about "body surfaces", but Kofman's writing, as ever, goes well beneath the surface of things.

The Saturday Paper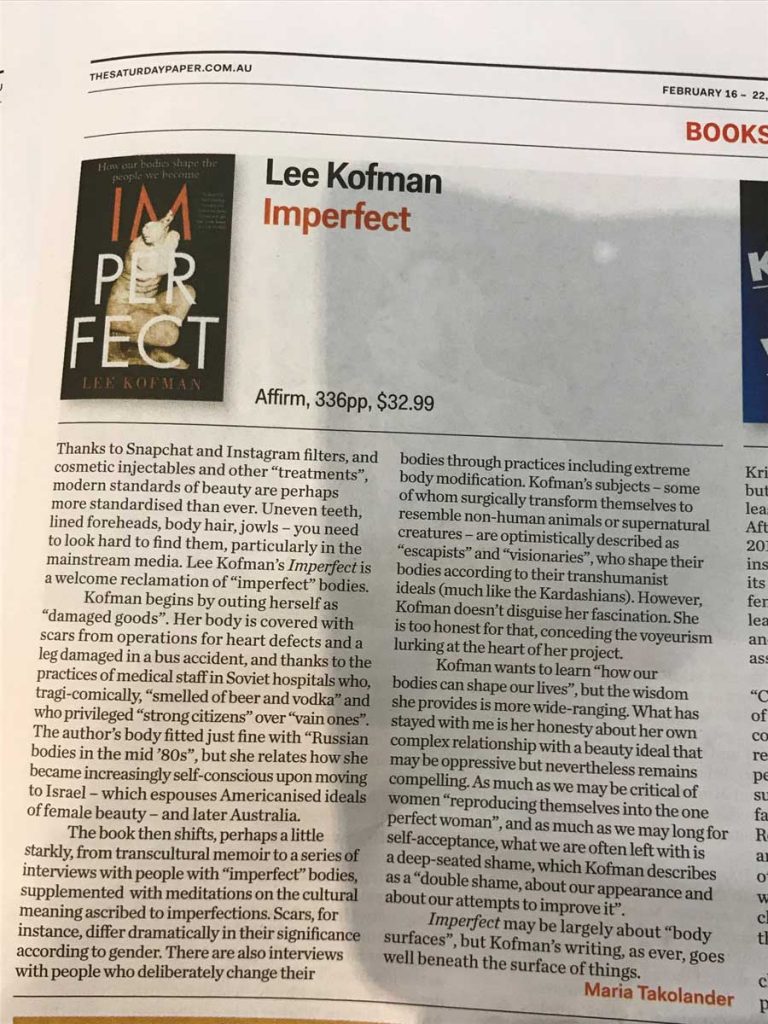 Kofman digs deep to uncover and critically examine her most intimate thoughts and feelings. Her clever, thoughtful book is an eye-opener.

Good Weekend (Fairfax)

Kofman has a wonderfully frank voice… Kofman's writerly gaze dances… purposefully, from the internal to external, defying simplistic resolutions with compassion and brio.

Australian Book Review
Imperfect is the kind of book where you want to underline sentences, that drives you to write counterpoints in the margins, that makes you angry at others and at yourself. It challenges without alienating, it invites further thought – and so has the potential to create actual change.

Kill Your Darlings
A wonderful book… Many gems emerge from this thoughtful, smart consideration… [Nicole Abadee] It's quite something… The personal story is extraordinarily powerful… [Kate Evans]

The Bookshelf
The power and complexities of Imperfect lie in its ambiguities and its refusal to judge or accept easy answers.

The Big Issue
Terrific blend of memoir and research

Feminartsy
The work is an exquisite hybrid of forms, combining scholarship, reportage/interview, and personal recollection that is often deeply poetic

Compulsive Reader
Kofman has cleverly interwoven many parts of her research throughout her own story, to better understand and examine both ancient and modern beliefs about the human body and its appearance.

Bluewolf Reviews
[Kofman's] writing about scars can't help but invoke the sense of woundedness, actual or metaphoric that all women carry.

Sydney Review of Books
Honest and raw writing… Brimming with curiosity, Imperfect is for anyone who has ever worried about their appearance or who struggles with low self-esteem or self-confidence due to their looks.

The Blurb
Imperfect extends beyond the cliches of societal acceptance and self-help, and offers instead, a deeper truth about imaginative empathy. An illuminating read.

Alice Pung
Bizarre and infinitely compelling.

Marion Halligan
A fascinating, moving and always thoughtful telling of a deeply personal story. A page-turner in the truest sense of the word.

Heather Morris, author of The Tattooist of Auschwitz
Kofman is the feminist stripped bare, displaying her flawed nakedness in a disrobing that is liberating for all of us.

Caroline Baum, author of Only

Imperfect is a remarkable, frank and questioning exploration of bodily imperfections and how we are shaped by them.


Cass Moriarty on What Am I Reading blog

Brave, open, honest, this narrative will provide you with insight and stimulate yet more questions…. A fascinating read.

Reading, Writing & Riesling blog
Imperfect by Lee Kofman is the book I've been recommending to anyone who asks lately… It's not about the kick up the bum, but about learning – with Lee – to accept our judgements of others, our prejudice and ignorance, and to discover new ways of looking at, understanding, and accepting others.

Monique Mulligan on Stories to Feed the Soul

The writing sparkles, the ideas are never weak-kneed, and the book's flow is superb. Very much in the seemingly fresh modern tradition of discursive, lucid memoirs, "Imperfect" is a wonderment.

ReadListenWatch
This book should be required reading. I have always considered myself fairly progressive when it came to body image, but I was pleasantly surprised by just how much this book challenged me. Highly recommended.

Kathryn's Inbox
There is something disarming… about the acute honesty that keeps surfacing in Imperfect… a subtle work of cultural critique and encounter.

Andy Jackson in Newswrite
I really can't recommend this terrific book highly enough… It would make a great choice for a book club as well, there is so much to discuss and ponder over. Compulsive reading!

Theresa Smith Writes

It is an intriguing and enthralling book to read and I know that I speak for a lot of people when I say that it is a book I am overjoyed it exists. Reading it made me cry. It made me smile. It allowed me, for a moment or two, to feel that I am not alone in my pain. I could not put it down for the world.

Literary Adventures
Kofman does not pull punches; rather, she sticks a serrated knife into our preconceived norms. This book will stay with the reader for a long time.

Leah Kaminsky, author of We're All Going to Die
Compelling, wise and insightful, Imperfect is unputdownable. It will make you see your body, and your place in the world with fresh eyes. I could not recommend this book more highly.

Monica Dux, author of Things I Didn't Expect (when I was expecting)

The blend of personal storytelling while being able to cast her eye about society to draw comparisons that are intelligently discussed has won Kofman fans and acclaim in her other books and this one is no exception.

Karen Andrews Blog
"Imperfect" will be a good read for anyone, who wants to dive into the topic of physical perfection and imperfection in the way of a mix of a memoir and a cultural critique.

Travel & Lifestyle
With a skilful hand, Lee Kofman unpicks the sutures of her own insecurities and those entrusted to her. She writes with all her senses. Every description is a decadent pleasure.

Jenny Valentish, author of Woman of Substances
This nuanced, beguiling book builds human bridges.

Myfanwy Jones, author of Leap
Noticing difference is the fundamental way we understand the world. Empathy requires cultivation. Lee Kofman's tender touch and generous informants reveal lyrical lessons of our flawed human condition that reverberate long after reading.

Ramona Koval