The wind is changing and I'm not even talking about the elections. This particular wind is breezing through my blog, which is now eight years old.
For eight years I've kept the same hybrid format, publishing my eclectic musings about the creative process and creative life, as well as providing a monthly platform for other writers to discuss various dilemmas they encounter in their writing with the hope that these will resonate with the readers – often themselves writers, or publishing industry professionals.
So far, at least judging by readers' responses and blog subscription numbers, it seems this has worked. And I'd like to keep providing a space for writers and other people interested in books and/or creativity to workshop ideas and trade various literary aches as well as joys; a space that offers some emotional support and practical tools, but without a guaranteed happy ending. Because not every creative problem has a solution. And I believe that accepting this should be as much a part of our writing process as our habitual problem solving.
There is so much more to dissect, moan about, and be thankful for in creative life. But I also feel like shaking up the format a little, freshening it up. Eight years down the track, I want to approach the mystery of creation from some new angles. Initially, I considered doing Q&As with authors, but there are already many of those around – I'm thinking particularly of The Paris Review interviews. Who can beat THAT?
But then I thought – here is something I'd like us writers to talk more about. Reading. Not any reading, not the book pile currently on our bedside table, not even our research materials, but rather a formative kind of reading. I want to explore the legacies of the greats that many of us, I suspect, live with – blinded and burdened by their shine and weight or the opposite, nourished by them as we carry inside our psyches small particles of greatness we've absorbed. These particles, I believe, often become our beacons to guide us through the dim jungles of our own budding narratives, helping us to sharpen our visions and make them grander, bolder.
In which ways and why do writers get inspired by other writers? How does our (best) reading shape our voice, ideas, even writing habits? I don't know about you, but personally I am endlessly curious about this. It is my hunch that by reading about how other writers absorb greatness into their pores we, too, can become better, more conscious and efficient sponges. Not copycats, but sponges. Taking in as much moisture as we can to become who we are meant to be creatively.
So, while some of my guest bloggers for this year will continue sharing their dilemmas around the art and craft of writing, I have asked a few others to discuss their literary influences and show how these have shaped their practice and body of work. The first post about influences will be out in a couple of weeks. There, Australian author and former bookseller Katerina Cosgrove discusses the importance of Paul Bowles in her life.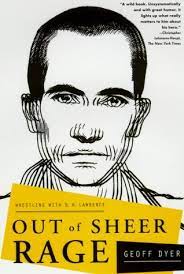 Myself, I've already reflected in this blog (as well as in my most recent book, The Writer Laid Bare) on some of my influences, choosing particular books rather than writers –Mikhail Bulgakov's The Master and Margarita and Geoff Dyer's Out of Sheer Rage. This year, I'm planning to write a couple of posts about writers who have meant a great deal to me, whether by showing me what is possible to achieve on the page or by inspiring me to be more courageous in my work or to be more adventurous and self-aware in how I live my (writing) life. At this stage, I'm thinking of such writers as Joan Didion, Katie Roiphe, Karl Ove Knausgaard and Robert Dessaix, but we'll see.
As we go along with this format I'm trialling this year, or already now that you have read this post, I'll be grateful to hear your thoughts – whether this format interests you, whether it works and whether or not you are getting something out of it. I'd also love to hear any other suggestions you may have about the ways I can approach exploration of creativity on this blog. Let's change the wind together.