This morning my children aren't home. Instead of seizing this precious time to write, I watered the plants in the back and front yards. I noticed that my favorite, blood-red, geranium needs to be dead-headed, and that the golden hibiscus I planted last year still refuses to flower, albeit without showing any signs of disease – a mystery I am more keen to solve than the mystery of how my next chapter will unfold. The way I am writing today – in a combination of procrastination, agony and self-deception – is the way I always write my first drafts…
Not much helps the tedium, Herculean labour and terror of first-draft writing. These drafts, be they for books or one-page articles, stir up all my insecurities – that my imagination is lacking, that my voice sucks, that I am not smart enough for my subject, that I have no stamina to complete a story, that I'll offend my dog with what I write… Or I can be seized, to the point of paralysis, by the feeling that I have absolutely nothing to say.
I suppose a friend who once said I'm more of a poet than a storyteller was right. Like poets, I am most interested in the minutiae of language, how it expresses and affects our thoughts and feelings. I care much more about composing a sentence than composing a scene, about analysing a relationship dynamic than constructing a plot that shows these dynamics in action, about finding a telling detail than writing dialogue. This is why I relish the revision stage, with its mindfulness-like quality where, soothed by the fact that the story already exists, I can focus on the small picture. I rewrite then word-by-word and ponder such delicious matters as whether describing my protagonist's dress as crimson is more effective than pomegranate-red.
I also love the macro aspect of revision, enjoy considering my already-existing work from a bird's-eye view – its structure, the overarching themes and their inter-relationships, the mood of the work, its recurrent metaphors. I like adding a window, shifting a staircase to a different corner, planting a gargoyle on the roof. I like all this just as much as I detest the methodical brick-by-brick construction of a narrative where you have to gradually introduce your characters and your story through carefully built scenes as well as descriptive or essayistic passages. At heart, then, I am a renovator and interior designer.
The stuff about first drafts that terrifies me is exactly what some other writers relish. The pleasure for them is often akin to the pleasure their readers derive from their works – inhabiting or reliving the worlds they create or recreate on the page as they paint them detail by detail, scene by scene. If those are fictional worlds, then the authors, once again like the readers, are also keen to find out what happens next. I like surprises too, just not those from an unwritten story. I feel exhausted just thinking of all the choices I have to make, the thematical angles yet unexamined, scenes yet undescribed let alone imagined… But once I get the narrative bridge to lead me through the abyss of the unknown, then I'm eager for surprises. I'm eager to see what hidden meanings I'll discover in the story while revising it, be it real or imagined, what I'll learn about my theme or about myself.
These differences in preferences are innate, I suppose, perhaps bound to the shape of our deepest fears and desires. Perhaps something to do with how much control we are prepared (able) to relinquish. First-draft lovers, the 'builders', are not as afraid of nothingness as I am, or as Hemingway, that bullfight aficionado who fought in the First World War and reported on the Spanish civil war, and who when asked about the most frightening thing he had ever encountered, replied: 'A blank sheet of paper.'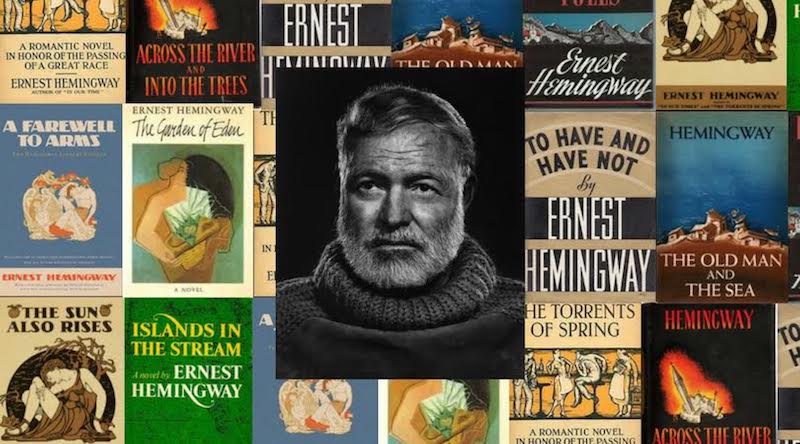 Unlike Hemingway and I, first-draft lovers trust the twists and turns of their minds and that the words will come. Perhaps these writers tolerate uncertainty better than I do because they have a stronger imagination and are too immersed in living their dreams to be overwhelmed by what has not been written yet. On the flip side, the builders are likely to feel intimidated by the grandeur of the edifices they erect. There is nothing dreamy about revision, nothing trance-like, is there? And isn't it frightening to wake up and see our enchanting dream in the clear light of the day?
All seasoned writers I know are clear on whether they belong to the first draft or revision camps. There might be some lucky ones who relish both stages, but I don't want to know them! For the rest of us, I think, it is important to identify who we are, then develop strategies to get ourselves through the more difficult stage of the two as quickly as possible and spend most of our writing time at the stage we relish.
This is why I battle my terror of first drafts by attacking the page in fast and furious typing sessions that last anywhere from thirty minutes to two hours. Despite the rubbish such writing can produce, I also find in it sentences and even longer passages that express my vision better than if I had written more carefully. The speed induces a temporary loss of self-consciousness in me, unruffling my more conventional patterns of thought, making room for more visceral ways of perception.
I now also learned to give myself permission not to write anything I don't feel like writing that day, even if this is something essential to the story, so that to sustain my initial desire during the first draft. Once the bulk of the work is written, I find two things may happen: either I find more energy to fill those 'unwanted' gaps because I no longer stand on the precipice of the blank page's abyss, or… I discover that what I had no desire to write is actually not as essential to the story as I thought and I can describe it in a paragraph or so, instead of dedicating it a greater space.
I write like this, through clenched teeth and in a furtive hurry, skimming and skipping, falling and injuring myself and getting up again, until finally, one day, my unwieldy edifice stands upright, awaiting me to cover its exposed electrical cables and rearrange the internal furnishings. It is only then that I begin turning up at my laptop without a constant internal wail.