I grew up in a house without books. My parents loved TV, and occasionally listened to one of our two LPs — Johnny Cash and Elvis Presley — but they weren't in the habit of reading.
One day, I heard Dad embroiled in a long conversation with a door-to-door salesman. A week later the World Book Encyclopaedia arrived at our home, complete with a shiny pinewood shelf. From that day, this gleaming set of books took pride of place at the entrance to our humble home, next to the wall-mounted phone. Pretty soon my dad was boasting to his friends that his eldest son (me) had read the whole set of encyclopaedias from beginning to end. When I finished this, I made a start on the two, very thick, complementary volumes of the Holy Bible that came with it, but got bogged down in the beatitudes and the begats of the Old Testament, and never got around to finishing that text.
That didn't inspire my dad to buy any more books, but when I got to high school I discovered a library full of other wonderful texts, including some about my favourite subject: theoretical physics. I decided I would follow in the footsteps of Einstein and study physics and maths at university. But as the date of application drew nearer, I changed my mind and made a strategic move based on another new interest of mine: the opposite sex. I had heard that almost half the students enrolling in medicine were girls, so I decided to throw my hat in that ring.
A couple of years into the course, however, I had a quarter-life crisis. A girl I was head-over-heels in love with left me for another boy. I found no solace in my texts on physics or medicine, but a flatmate introduced me to the writings of Sartre, Beauvoir, Camus, Kierkegaard, and Dostoyevsky, and in these pages I found what I needed. Other souls who shared my pain, my confusion, my questions about the meaning of life. I began my lifelong journey of scouring the rich, wide worlds of literature, religion, poetry, philosophy, history and art.
I trudged through my medical course, barely passing, telling friends I planned to take a humanities degree after I finished, that I was only studying medicine to secure a source of income. Fortunately, after graduation, I discovered the specialty of psychiatry, a branch of medicine that draws on science, philosophy, and literature in equal measure. I had found my home.
I had been settled in my new career for several years when, whilst browsing in Brisbane's Riverbend bookstore, I came across a book that blew me out of the water. A Terrible Beauty by Peter Watson. Its subtitle: A History of the People and Ideas that Shaped the Modern Mind. The blurb promised to take the reader on an encyclopaedic journey through the ideas of the twentieth century, starting with four things that the author boldly asserted were the century's greatest breakthroughs: Freud's discovery of the unconscious, Einstein's discovery of relativity, Crick's discovery of the gene, and Picasso's discovery of cubism. Wow! I loved how the author wove the ideas of science, the arts and humanities together into what promised to be one compelling narrative. I looked through the index; it was full of names of people whose ideas I wanted to better understand: Apollinaire, Brecht, Heisenberg, Levi-Strauss, Joyce, Conrad, Gurdjieff, and many others.
It took me a year to read the book as I wanted to savour every page, imagining the lives of people in it and the place and time in which they worked. I loved gazing at the yellow and grey dustcover which had a montage of photographs of some of the dramatic personae inside: Einstein, Woolf, Sartre, Orwell, and Greer. The back cover also had a list of floating names in different fonts, amongst them Stravinsky, Lukács, Saussure, Satie, Said, Wittgenstein, Keynes, and Sontag.
This was a book that made me want to read lots of other books.
Although I hadn't started writing anything myself at that point of my life, I can see now that Watson had planted a seed in my mind. His book showed me that the history of ideas doesn't have to be dry, that it can be fashioned into any number of compelling storylines. My other favourite books that I've read since Watson's also do this: The Shock of the New by Robert Hughes, The Loom of Language by Frederick Bodmer, and Postwar by Tony Judt. More recently, Sapiens by Yuval Noah Harari is another masterful example. I later learned that this genre is called narrative nonfiction, but back in those days, I just saw them as great reads.
In 2009 I started working on my own manuscript, tentatively called Lovers of Philosophy, that explored the love lives of seven continental philosophers — Kant, Hegel, Nietzsche, Heidegger, Sartre, Foucault, and Derrida.
A few years later I showed an early draft to a local literary agent and she shocked me by saying she thought it was 'a fantastic idea' that was 'beautifully written'. She also said I would never find a market for it in Australia, that I was better off trying UK or US markets. I nodded, having no idea how I might do that.
A few years later I was signed by a New York agent. I got a few nibbles from some of the big houses in America but soon after that the agent wrote to me that her agency was being taken over by a new owner and they had instructed her to let me go.
I was devastated.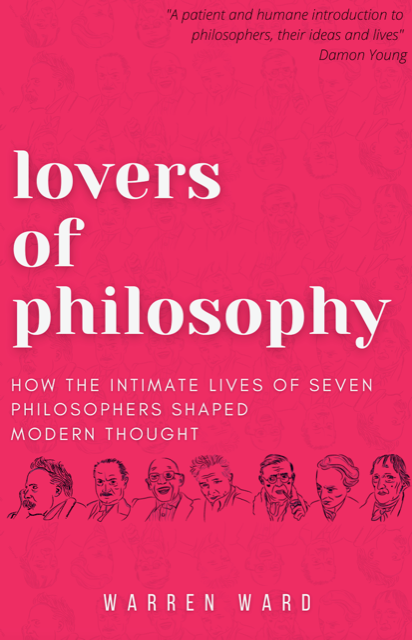 By 2014 I had been working on the book for five years, and was accumulating a long list of sad stories, almost-theres, and nicely worded rejection slips. Many of these mentioned that although they liked the idea and the writing, they felt I lacked an adequate platform to generate sales, given I wasn't really an authority on the history of ideas. My qualifications were in psychiatry not philosophy.
Then, one day, while doodling in my office, it occurred to me that the market for Peter Watson's book was similar to mine. On a whim I looked him up on the Internet, found an email address, and sent a message telling him how much I loved A Terrible Beauty — how it was one of my favourite books. I mentioned my manuscript and asked if he had any ideas about suitable publishers. I didn't expect a reply.
He replied fifteen minutes later.
He said he loved the idea behind my manuscript; he himself was fascinated by the love affair between Nietzsche and Lou Salomé, a central narrative thread in my work. I wrote back, mentioning I would be in the UK in a month (I lied — I was actually going to Paris but was willing to make a detour). Perhaps we could meet?
He agreed.
One month later, I was pushing through the rush-hour crowd at Charing Cross Station to meet my favourite author. He was standing in a long black raincoat at a newsstand outside the cafe at which we had arranged our rendezvous. When we sat down to talk, the first thing I noticed were the lines in his face, deep furrows of concentration — from decades of writing, I assume.
He gave me the names of two publishers with whom he had a personal acquaintance. As our conversation — which mainly comprised me breathlessly fan-boying his body of work — came to an end, I asked him the question that had been plaguing me for years.
'A frequent comment I'm getting from publishers is that I don't have the authority to write about philosophy or the history of ideas. How did you get that authority? What did you do before you started writing books?'
'Oh', he dismissed my question with a wave of his hand. 'I was nothing. I was actually working as a psychiatrist when I published my first book.'
I hadn't told Peter I was a psychiatrist.
Warren Ward is a Brisbane-based psychiatrist whose book, Lovers of Philosophy: How the Intimate Lives of Seven Philosophers Shaped Modern Thought, was released by Ockham Publishing (UK) in January 2022. For several weeks after its release, Lovers of Philosophy was a number one bestseller on the Amazon philosophy charts. https://warrenkward.com/about/